I hope everyone had a great weekend and that your Monday is kicking off another great week. Over the weekend, I put in a lot of time playing Hearthstone. I had some positive things happen, like hitting rank 14, and then some really bad things happen... like going on a big losing streak. Now I could blame RNG for disliking me by dropping multiple Doomsayers or encountering players who were absolutely terrible, but then I would have to admit that perhaps my winning streak was nothing but RNG. So rather than admit that perhaps I am really bad at this game, I would rather focus on the positive!

For example, I made the decision to swap out a few cards and add in Hellfire and Bane of Doom. The Hellfire addition was extremely useful in helping me decimate a couple players I ran into; however, every time I faced a Hunter, it appeared as if my Hellfire cards and taunts were mysteriously removed from my deck. Is there a secret Hunter ability that removes all such cards?

The deck appears to be extremely effective against Magi. To my knowledge, since I started my run, I have only lost to one Mage and that was due to an unfortunate Doomsayer spawning late in the game. I would also note that the Mage was a mech Mage as well. I wish I could remember their name because they played flawlessly and seemed to know exactly what I was planning to do.

I am not going to lie to you all, there were times where I wanted to switch decks and play a more conventional deck, if there really is one, but I just really like how this deck is handling. Perhaps next month I will run a different deck, but for the remainder of this month... YOUR SOUL SHALL BE MINE!!!!

Happy Thursday all! I hope you all are doing absolutely great today! Today's post is going to be a short one, but I have pictures!!!!! I hit rank 15 yesterday! I am pretty pleased with the overall success of the deck. I do believe though that this weekend I may tweak a few cards around to provide a little more protection against face decks.

I had a good friend who spent his evening Tuesday throwing various decks at me. While some of the decks won by sheer RNG, others won by shining the light on the weakness of my ability to clear a board. So that having been said, I believe that this weekend we will look to tweak the deck slightly in hopes of adding in a little protection against these decks.

I did also manage to sneak my way into WoW yesterday and was working on cleaning up my bank some. I have been kicking the idea around of making a major change there and if I do decide to act, then I must be prepared! Look for more WoW updates in the near future!

In other gaming news, I received my beta access to Star Craft II: Legacy of the Void at the end of April; however, I did not notice this till late yesterday. I did download and hop into it, but there seemed to be only one other player online who was completely out of my class in terms of skill. So sadly, I really have nothing to report on there yet, but keep your eyes around here because I promise to bring you all the terrible game-play I can! Well, I think that is going to do it for me today. Catch you all next time!

Today I felt that I should probably share with you all what the deck I have titled "Unending" looks like! So as you look over the list of cards to the left, you will notice that almost all of the cards share one thing in common... the ability to summon additional cards.

The exceptions being Alexstrasza and Mal'Ganis.




This is probably the third or fourth version of this deck that I have experimented with. The biggest draw back that I have with it right now is that if I get a very bad opening hand, thinking nothing but five or higher mana cost cards, then I have no board clearing abilities such as Hellfire. So the one thing I am considering is actually removing something like the Murloc Tide Hunter in favor of adding in some board clearing, as I think this will eventually become a problem down the line.




I wish I could rattle off stats for you and what not, but I started playing this deck before I decided to cover my Hearthstone play here. If I had to assign a number in terms of win percentage, then I would say it is probably hitting around 60% at the moment. Moving forward, aka starting tomorrow, when I run the deck I am going to keep a running tally on its win/loss record in order to better judge how effective/ineffective the deck may actually be.

I think my favorite play in this deck is getting a Mal'Gannis summoned in turn four. It takes a perfect set-up, and it is not something I would ever say you should try to play, but oh dear Light! When it happens, you can hear the screams of your

opponent

.

I think that this deck has potential and I certainly want to try to take it as far as I possibly can. How far will that be? Well, that I do not know, but I do know that it will be a fun ride! I think that is going to do it for today, below are some screenshots from this deck in action. I hope y'all have a great day and I'll see you next time!
Powered by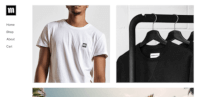 Create your own unique website with customizable templates.