I just wanted to take a moment and wish everyone a happy Easter! I hope that wherever you find yourself today, that it is filled with good times and great people. For me personally, Easter means more than colored eggs and sweets. It is a time of year where I like to give thanks to God for His sacrifice for me. Now don't go running away! I promise we are not going to whip out the

humongous

family Bible and start to preach... then again, maybe we will! I'll see you all next time!
Powered by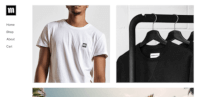 Create your own unique website with customizable templates.