What's this? A rare Saturday post? That's right boys and girls, from now on Holy Shock is going to add in a little something extra at the end of the week! Starting today and every Saturday moving forward, we will be posting screenshots from all the in-game action during the course of the week! Hearthstone? Heck yeah! League of Legends? Maybe, if I ever get back around to playing it again! World of Warcraft? You know there is going to be at least a screenshot or two from the mailbox right?

As this week was a week of focus on Hearthstone, I pretty much only have screenshots from ranked play, so enjoy!
Powered by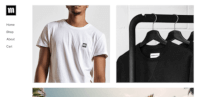 Create your own unique website with customizable templates.